This weeks Yea or Nay is bookshelf wallpaper.
On the plus side, it's a space saver, and adds interest when you don't actually have loads of books to display.
On the flip side, it just keeps bringing me back to those incredibly tacky huge sunset murals...
Where do you stand?
Tracy Kendall has created three: The Paperback
I could see this in a mostly white, slightly retro coffeeshop.
The Magazine Version - I have PLENTY of these around already - and I'm pretty sure you do, too!
The Stack Version
Here is a flocked paper - over black panelling - maybe in a hallway?
I quite like the cheeky name of this one - "Genuine Fake Bookshelf"
Looks great off-set with a bit of juicy orange or red..
Rich mossy green velvet and bright navy carpet?!! Love it!
Oh yes, the paper... it serves as art here, really.
Hmm, this space may have me skipping over to the yea side..
For all you Belgium Linen lovers out there, an understated version from Y&B..
I still prefer the real thing!
I suppose we can't all be lucky enough to have this...
But most of us can manage something like this..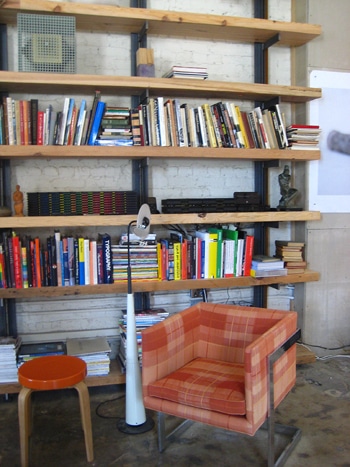 source
source
What about you? Could you see any of those bookshelf papers in your home?
til next time..
(Hopefully tomorrow the Pixel Project post will be up - we had company drop in twice this weekend!
It was wonderful, we caught up with some old friends over wine and had a great visit with family :)
Pin It Now!